Sell Side Advisory
Converting Strategics into Buyers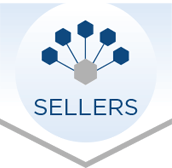 Sell Side Advisory is BizEx's primary focus and source of revenues.
Our job is to create a marketing package for your business that highlights its strengths and value drivers and then create the market necessary to get you the best price and terms available.
---
There are a number of ways we do this.
Industry Specialization
Most of our Advisors specialize in one or more industries. They have a keen idea of both the typical price range and buyer types, both strategic and financial, who might be interested in your company, and the elements of your business that drives value. This equates to both a quicker sales process and the confidence that you're getting the price and terms commensurate with the industry or better.
Confidential Business Review (CBR)/Confidential Information Memorandum (CIM)
We build our own CBR's tailored to your specific business. It provides a serious buyer all of the information they need to make a decision on whether to pursue the purchase of your business or not. We rely on 3rd party market research but do not outsource the creation of this key marketing piece.
Centralized Buyer Database
We spend thousands of dollars a month marketing to various buyer types who are interested in acquiring businesses for sale. As part of the qualification process we capture all relevant buyer information for future sales. Regardless of which BizEx M&A Advisor you choose, you'll have access to over 9,000 buyers in our centralized buyer database.
Strategic Buyer Search
In addition to our standard marketing process we take the time to search for and approach strategic buyers for your business. The right buyer will pay a fair price, which for them is often at or above the general market price.
Private Equity Groups (PEGs)
We are often approached and have built a database of qualified PEG's that might be interested in buying your business.
Auction Process
Depending on the transaction, we run an auction process to generate competition and sense of urgency to get prospective buyers to move forward in a transaction and generate the best price and terms this process can generate.
BizEx has been involved in the sale of hundreds of businesses. We have both the experience and expertise you need to advise you through this complex process.