Business Valuation Advisory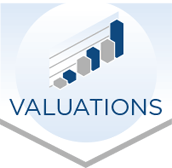 We analyze your strengths and weaknesses, providing more than just a number — a tool you can use to drive value growth.
---
We provide a Brokers Opinion of Value primarily to business owners who are thinking about selling their business.
If the intention of the business owner is to have us represent them in the sale of the business, then we generally include this for free.
If the intention of the business owner is for planning purposes, such as exit planning, then we charge a fee.
Our firm has business valuation training from the International Business Brokers Association (IBBA), M&A Source, and the National Association of Certified Valuators and Analysts (NACVA). However, we are not certified, do not do certified valuation work and do not plan on doing certified work at this time because it's not consistent with our business strategy. We are a business sales & acquisitions firm.
What differentiates us from valuation firms is our valuation concepts are challenged in the market place on a daily basis. So if you want a real world idea of the Most Probable Sales Price of your business because you're thinking about selling your business, then you've come to the right place.