Buy Side Advisory
Helping You Find The Right Business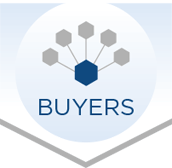 We are very selective of the Buy Side engagement we take on. We generally only take assignments from corporations who are looking to grow through acquisition and Private Equity Groups looking for Add-Ons or platforms.
---
Buy Side Advisory primarily involves identifying the types of businesses you're interested in, putting together a list and then contacting the business owners to see if they are interested in selling.
It's important that you put some thought into what you want to buy and have a tight specification in terms of size, location and industry. Once you have clarity on what you're looking for, we will match you up with someone who specializes in the industry you're most interested in. They'll interview you and dig in deep to find potential synergies you can leverage so we can put together the right list of target acquisition companies.
Then we will put together a list of businesses based on your requirement and then contact the owners by phone, letter and email until we get the desired response.
If you're an individual buyer, you should read our section on How to Buy a Business. You can search businesses for sale on our site and/or register as a buyer and we will contact you if we get a listing that matches your inquiries. Sometimes that's a great way to start the buyer search if you're not certain what you want. Just start looking at businesses with an eye on leveraging your strengths to get the most out of an acquisition.

Search Businesses for Sale