Internet
Industry Overview
Companies in this industry sell products directly to consumers via the Internet, TV, or mail order. Major companies include the US-based Amazon, HSN, J Crew, and Liberty Interactive (parent company of QVC), as well as Shop Direct Home Shopping (based in the UK), Otto Group (Germany), Alibaba Group-owned Taobao (China), and Rakuten (Japan).
Globally, annual e-commerce revenue is about $1.7 trillion and is expected to top $3.5 billion by 2019, according to eMarketer. Growth is driven in large part by rapidly expanding online and mobile user bases in emerging markets, increases in mobile commerce sales, and the push into new international markets by major brands. The Asia/Pacific region is the world's fastest-growing market for online sales. Much of the growth in the region will come from rural consumers making purchases from mobile phones.
The Internet and mail-order retail industry in the US includes about 30,000 companies with combined annual revenue of about $410 billion.
Over the past five years, the bulk of the industry's revenue has shifted from catalog to Internet sales. While most brick-and-mortar retailers have an online presence and many also offer catalog sales, this profile focuses on retailers who use the Internet or catalogs as their sole or primary sales channel.
Competitive Landscape
Demand is driven by consumers' personal income. Profitability of individual companies depends on effective marketing to build a customer base. Larger firms enjoy central purchasing efficiencies and economies of scale in inventory management, customer service, and telecommunications. Smaller firms compete on outstanding customer service and providing niche products. The industry is concentrated: the top 50 companies account for about 75% of industry revenue.
Amazon.com is by far the dominant global force in Internet retail. As of late 2015 the company's annual online sales exceeded those of the next nine largest competitors combined. The Seattle-based company captured nearly 35% of all visits to the 500 leading online sites in November and December 2015, up from about 26% during the same period in 2014, according to data from Hitwise reported by Internet Retailer.
With 1,800 different catalogs, Germany's Otto Group is the world's largest mail-order operation, although e-commerce accounts for more than half of the group's total sales.
Industry Indicators
Total US consumer spending, an indicator of internet and catalog sales, rose 1.4%, primarily from service expenditures, in October 2016 compared to the same month in 2015.
The average US retail price for diesel and regular gas, which influences discretionary consumer spending on internet and catalog items, rose 6.6% and 9.8%, respectively, in the week ending December 12, 2016, compared to the same week in 2015.
US retail sales for non-store retailers, a potential measure of internet and catalog retailer demand, increased 11.5% in the first eleven months of 2016 compared to the same period in 2015.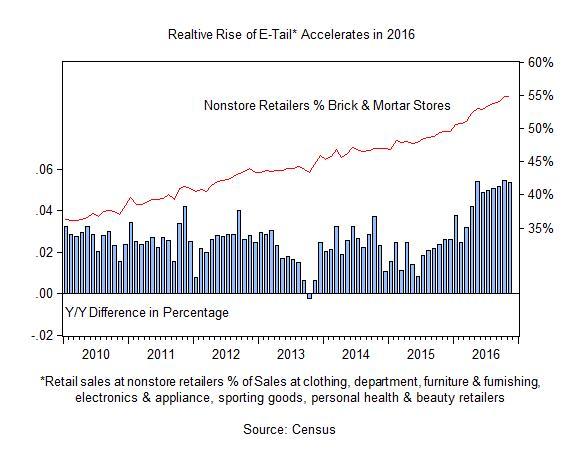 Industry Drivers
Changes in the economic environment that may positively or negatively affect industry growth. Data provided by First Research analysts and reviewed annually.
Consumer Spending: Change in overall level of consumer spending on goods and services Technology
Innovation Advances: in science and technology, including information technology
Critical Issues
Demand Depends on Consumer Income - Catalog and Internet retailers sell primarily discretionary goods and services, so demand varies with changes in personal income. Consumers delay or cut back on computers, new clothing, home furnishings, and other discretionary items when the economy weakens.
Competition from Traditional Retailers - Traditional retailers are becoming the dominant online retailers by leveraging high consumer awareness. Consumers are moving to large brands that have online capability and that they're familiar with. Internet retailing has been growing rapidly: from 2.6% of US retail sales in 2005 to 7.4% in 2015. Traditional retailers that offer multi-channel marketing will profit from serving online customers.
Business Challenges
Security, Privacy Concerns - A fundamental requirement for e-commerce is the secure transmission of private information over public networks. Credit card fraud is much higher for Web retailers than traditional stores. The industry has historically suffered from a general public mistrust of entering personal and credit card information online. Security measures have been installed by most online retailers, but information security and privacy remain consumer concerns.
Advent of National Internet Sales Tax - State governments are moving forward with plans to create a national infrastructure to manage collection of sales taxes on e-commerce transactions. Since a 1992 Supreme Court ruling, catalog and Internet retailers have been exempt from collecting sales taxes in states where they don't have a physical presence. Because billions in uncollected revenue is at stake, many states are seeking ways to get around the ruling, including legislation.
Increased Postal, Telecommunication Costs - Catalog firms use the US Postal Service to mail their catalogs. Since many companies mail millions of catalogs each year, even a small increase in postal rates greatly affects variable costs; mailing and package shipment costs approximate a significant percentage of company revenues. Any telecommunication cost increase affects call center operations for both catalogers and online customer Business Challenges service centers.
Anticipating Consumer Preferences - Due to lead times required for catalog production and distribution, catalog retailers may be unable to respond as rapidly as traditional retailers or Internet retailers to changing customer product preferences, fashion changes, or to rapidly changing prices, increasing inventory risk. Maintaining System Availability - With the explosive increase in users and need for 24/7 availability, system availability and capacity are stressed. E-commerce companies find forecasting the number of site visits, particularly during peak holiday shopping periods, increasingly difficult. System outages and slow response times during peak demands can result in losing sales and customers to competitors.
Building Strong Brand Awareness - Internet retailers that can dominate a category of the market can expand their brand into other categories. Amazon struggled to make its book site profitable, but once it did, has expanded into many other product categories. The Amazon brand is now synonymous with online purchases. The large advertising spending by leading companies such as Amazon challenges other Internet retailers in growing their own brand awareness.
Industry Opportunities
Increasing Online Purchase Rates - Some industry estimates suggest that as many as two-thirds of Internet shoppers place items in their carts but then abandon them without buying anything, though no industrywide data supports this. Some retailers view abandoned shopping carts as a missed opportunity, and attempt to woo back shoppers with e-mail reminders and even discount offers. Other companies are reformatting "click" routines to simplify the shopping experience and reduce high abandonment rates.
Multi-Channel Marketing - Catalog retailers have adapted to online marketing successfully; they enjoy the advantages of having an established infrastructure and have extensive experience selling to customers remotely. They also focus on their best customers rather than allocating large marketing budgets to acquiring new ones. Customers who use multiple channels (print catalog consumption followed by online ordering) are more valuable than single-channel shoppers, and catalog delivery is often accompanied by a spike in activity on a merchant's website, according to Forbes.
Leveraging Customer Data - Catalog firms, and increasingly Internet retailers as well, have a wealth of customer-specific data that can be used to improve decision-making through data warehousing, sales forecasting, statistical modeling, and geographic analysis. These analyses can be used to personalize marketing efforts through targeted mailings and customized emails. Boosting email relevance begins with customer segmentation.
Creating Loyalty Programs - Generating repeat business is important to Internet retailers. Customer reward programs, such as frequent shopper discounts and online coupons, are being used by some retailers. Online Industry Opportunities retailers are using the techniques of mainline retailers in looking at the long-term value of customers rather than the short-term sale. Frequent buyers may also be the first to be offered new merchandise or sale prices as a reward for loyalty.
Resources
Internet Retailer: www.internetretailer.com
Ecommerce strategies for retailers, including daily news, articles, research, webinars and ranking the global leaders in e-commerce.
Digital Retail (Shop.org) | National Retail Federation: www.shop.org
Shop.org is a community of executives who share a common purpose: Advancing the digital retail industry through networking and shared expertise.
Statement on How E-Commerce Sales are Categorized - Census.gov
www.census.gov/newsroom/press-releases/2016/cb16-rtq03.html
Reference
Dun & Bradstreet | M&A Source Industry Profile
Internet & Mail-Order Retail, November 14th, 2016
Meet the Brokers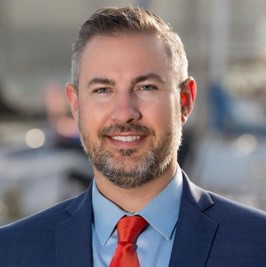 M&A Advisor
4551 Glencoe Ave. #210
Marina del Rey, CA 90292
Office: (310) 882-2200 ext 143
Direct: (310) 801-0512
Lic#: 02004232
»
Full broker profile
Contact